MMA Boston Parking Announcement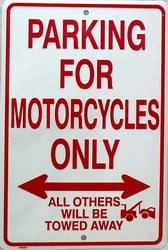 The Massachusetts Motorcycle Association (MMA) is pleased to announce that major progress has been made in solving the many parking problems that riders face when riding in Boston. For almost six months the MMA has been working with the Boston Transportation Department on solving these problems. The announcement has been made that beginning this Summer a pilot program will be instituted around Newbury and Boylston Streets where a dozen or so metered spaces will be partitioned into motorcycle slots of 4 spaces each, resulting in almost 50 new motorcycle-only parking spaces. We are also working on getting full access to all the parking garages in Boston, where currently only 2 garages allow motorcycle parking. If the pilot program is successful, other motorcycle parking spots will be created in 2011. The City of Boston has been very open to suggestions and your MMA will continue to fight for motorcycle recognition and your rights in Boston.
This success builds on previous experience with Park Plymouth, a highly popular waterfront area. The MMA negotiated an agreement allowing up to 4 motorcycles to park under one paid parking permit in a single space, improving parking conditions for motorcyclists.